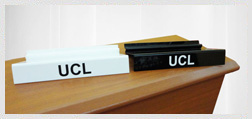 Treasure Advertising specialise in offering a complete range of acrylic display products for all point of sale requirements includes fabrication, laser cutting, laser engraving,screen printing, acrylic and vinyl lettering, pad printing and much more. We supply acrylic products and equipment for all of your retail display, exhibition display and point of sale requirements.
If your requirement is for a non-standard item, size or colour, or you would like something a little different to enable your product to stand out from the rest, we have a Design Service which would be pleased to design and manufacture any item to your individual requirement.
Treasure Advertising have a fully fitted workshop with capable, enthusiastic and professional staff, committed to providing a first class product, delivered on time and in the most cost effective manner.
we specialise in providing a wide range of leaflet holders and point of sale displays for your business needs. leaflet dispensers are great for holding A4 brochures and magazines. Our wall- mounted leaflet holders are often used in reception areas as well as waiting rooms on the shop floor.
we offer a range of display stands and point of sale displays, to acrylic cubes and floor-standing spinning display stands. With our variety of leaflet holders and display stands, we offer you dozens of ways to showcase your business products and services.
For a different size unit, to offer advice and assistance in a friendly and informal manner please contact us and we will help you with your requirements.