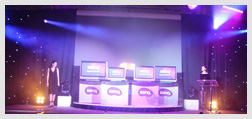 Treasure Advertising event solutions is experienced in the event industry,which we have worked with many organisations supplying sound, lighting,exhibition stands, audio visual and much more.We provide a "one stop" solution for every aspect of an event from start till end with quality and memorable service .
Treasure Advertising can specially create an unique event to match your company's specific requirements to make it a legend. Years of experience enable us to make it a memorable experience for you , while providing "true value" and maximizing your budget.
Treasure Advertising endeavour to provide our customers with the highest levels of service and strive to be the best at what we do.
For queries and quotes please contact us with your requirements.