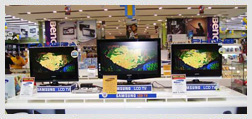 Treasure advertising have been sourcing, designing, producing and supplying the finest qualitywicker, willow and wooden products all over UAE.
From traditional storage or display solutions and corner display cabinets to model display cabinets and modern wooden display cabinets to toy storage box, shoe storage unit or a good old fashioned blanket box.
Our products offers a wide range of wicker hamper baskets, wicker trays, hampers, fitted picnic hampers, retail display stands, log baskets, pet baskets and packaging materials suitable for farm shops, village stores, delis, cafés, coffee shops, supermarkets, and other small or largeretailers.
Our wooden display stands vary in styles available according to customers requirements.
If you are looking for a display stand not shown or something different or would like to find out more about wooden display stands, Please contact us.