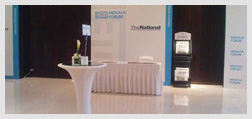 Treasure advertising offers the complete exhibition service, giving you professional exhibition display stands. We have an extensive range of modular
Display stands, Display Boards
Pop-up Display stands
Banner Systems
Range of exhibition furniture.
Treasure advertising supplies exhibition and display equipment and have over 100ís of different consumable items for both the trade and end users, including shop fitting, signage and retail displays.
For the seasoned exhibitor we provide total customer Project Management from the initial FREE Exhibition Stand Design to installation in Sharjah, Dubai, Abu Dhabi or anywhere in UAE. With our own production facility we build custom made and modular Display Stands, award winning exhibition stands and display equipment, all to the highest of standards. Shop fitting and reception design is part of our Special projects portfolio.
we design, manufacture and deliver display stands suitable for displaying various products ranging from electronics, mobiles and FMCG products.Our Company specialize in designing an extensive range of display stands, exhibition equipment, lighting boxes signs and more.
To perfect our service, we provide the products with the best quality at the reasonable price. There are many types of display stands as varied in size, color and shape as the different products they display.We offer a wide range of outdoor and indoor Display stand made on Acrylic, Metal, Wire and Wood.
Traesure Advertising have the solutions to make the work smarter.